Jaime Delgado Aparicio : Peruvian jazz messenger
In these modern times, it is not frequent that an individual leaves a permanent mark in the musical history of a country. In Peru, in the 60' s and 70' s, Jaime Delgado Aparicio, a pianist and composer, promoted and exposed all different styles of jazz to all social levels, helping many young students and professional musicians to understand this musical language. This is a modest attempt to record his life and achievements.
Jaime Delgado Aparicio was born in Lima, Peru in 1943. He started studying piano and classical music when he was five years old; at fifteen, he won the National Inter schools' Piano Competition. Delgado traveled to the United States to continue his high school studies. In this country he had the opportunity to listen to jazz. His interest for this type of music led him to enroll in the Westlake College of Modern Music, in Los Angeles, where he got his Professional Musician degree in 1961.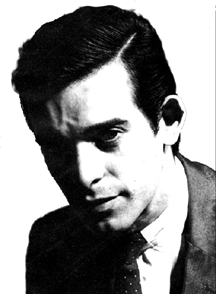 He returned to Peru to work as a professional jazz musician, organizing several small groups and playing for all kinds of audiences, giving the opportunity to young Peruvian musicians to listen to and learn the different styles of jazz. Still fresh in the memory of many Peruvian aficionados are the jazz concerts and recitals that he used to organize in the main concert halls of Lima, among them the famous Teatro Segura, the club Astoria and the Peru-USA Cultural Institute. His trio had Eduardo Arbe at the drums and David Thomas, a musician with the Peruvian National Symphonic Orchestra, playing bass.
Jaime Delgado returned to the USA in 1962 to continue his piano, composition and orchestra direction studies at the Berkley College of Music in Boston. In Berkley he befriended another talented pianist, Keith Jarret. This friendship lasted many years and Jarret's early style and musicianship influenced Jaime Delgado's playing. Other musical influences were Duke Ellington and Horace Silver. When he graduated from Berkley, his newly acquired knowledge, his dedication to the instrument and his passion for music, turned him into an extraordinary jazz pianist.
1964 was a busy year for Jaime Delgado. After playing at the Montevideo Jazz Festival, he returned to Peru to continue his series of concerts and started giving private classes of jazz piano and vibraphone. Upon his return to Peru, he found a new media to propagate his music:television. His new jazz trio with Rolf Schmid, drums, and Corrado Cultrera, acoustic bass, gave many televised concerts.
Jaime Delgado Aparicio married Maria Teresa Cultrera, sister of his friend and fellow musician Corrado Cultrera, in 1965. The couple had three children.
His musical style was a perfect blend of jazz, Latin and Andean music. Eventually, the international music community started noticing his talents. He was commissioned to write the music for several movies, among them, the Italian adventure film "Symphony For Two Spies", starring Monica Vitti, and what it is considered one of his masterpieces, the soundtrack for the Peruvian film "El Embajador y Yo" ("The Ambassador and I"). His suite for jazz ensemble and symphonic orchestra, "Evocacion", was never recorded.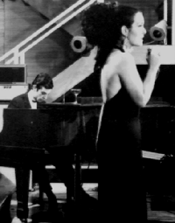 In 1970 he was hired as the Musical Director of Sono Radio, one of the most prestigious Peruvian record labels. In this position he helped and promoted many new jazz groups and other Peruvian musicians, writing arrangements, making compositions for them, recording and publishing their music. One of these groups was Black Sugar, a very promising band of young musicians that were playing a fusion of jazz, soul and Latin music, and Traffic Sound, a psychedelic rock band with a unique Latin and Andean flavor. Also, he was busy organizing concerts were he presented his music under different formats : trios, quartets, sextets, etc... Sometimes playing piano, others playing the vibraphone. The concerts sometimes included the newly formed jazz group, Bossa 70, that at the time were playing jazz and Brazilian music.

Jaime Delgado founded the "Contemporary Orchestra" as a mean to expose new talents to the music scene. Virtually all the professional musicians in Peru played, at one time or another, with this innovative orchestra . Most of the members of Black Sugar were regular members of the Jaime Delgado' s Contemporary Orchestra. The concerts were organized almost monthly and the music covered a broad range of styles, from classical to jazz to complex pop arrangements. The most memorable concert was the one with Traffic Sound, in 1971 at the Teatro Segura, were the last song, Mr.Slick, lasted for 30 minutes with a delirious audience that did not want the music to stop.

Jaime Delgado Aparicio died on March 28th., 1983. At the time of his death he was finalizing the musical piece "Confetti", written to honor the great Peruvian composer Chabuca Granda. He left as legacy a legion of new jazz fans and many students, that later became the new generation of jazz musicians in Peru.

His discography is composed of four recordings, all of them done for Peruvian labels : Jaime Delgado Aparicio Jazz Trio (Sono Radio LPL-2058, 1964), Jam Sessions Volume I (El Virrey DV- 469, 1965), soundtrack for El Embajador y Yo (Decibel LPD-1121, 1968), and Orquesta Contemporanea (Sono Radio S.E-9557, 1976).

George Bonilla ©1995 Lazarus Audio Products